Masterful Mueller cementing his name in Bayern history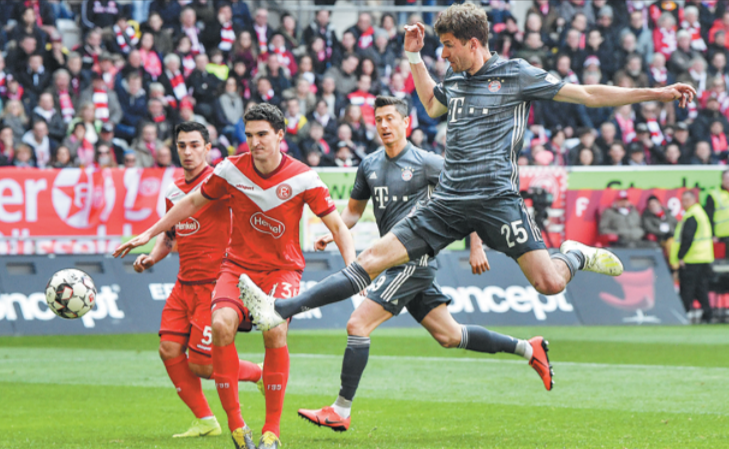 The name Mueller has become synonymous with goals and glory at Bayern Munich through the decades.
From 1964-79, Gerd Mueller earned god-like status at the club by scoring 365 times in 427 league matches.
Such was his effectiveness in front of goal, television and radio commentators invariably uttered two words with deadpan certainty as the ball landed at the striker's feet: "Mueller, goal."
In the 2018-19 Bundesliga season, another Mueller, Thomas, is playing a vital role as Bayern bids to keep Borussia Dortmund's hands off the trophy and win a seventh straight top-flight title and 29th in total.
The stats show how important the 29-year-old remains for his side.
Whenever the former Germany international scores, Bayern does not lose. The Bavarians have won 82 and drawn five times in the 87 games in which Mueller has netted.
And while his namesake was primarily a master poacher, Thomas Mueller has arguably more to his game.
The 2014 World Cup winner is also a creator of goals, providing four assists in his past five league games as Bayern overtook Dortmund at the top of the standings by a point with five games left.
"You just can't stop him as defenders don't seem to get hold of him," Bayern coach Niko Kovac said after last Sunday's 4-1 win at Fortuna Duesseldorf.
"He seems to be everywhere at the same time, and that makes him invaluable for us."
It's been far from clear sailing for Mueller this season, though. The forward was relegated to the bench by Kovac early in the campaign and was blamed by some for Bayern's Champions League elimination to Liverpool after missing the last-16 loss because of his red card against Ajax.
But the native Bavarian has rediscovered his best form just in time to salvage his team's season.
With Mueller on the pitch, Bayern is scoring more as the results of its last six league games bear testament to: 5-1, 6-0, 6-0, 1-1, 5-0 and 4-1.
Since 2014, Mueller has had only season in which he has tallied more goals than assists.
"I know exactly what makes strikers happy as I am a striker myself," he said of his knack for supplying others with chances.
Robert Lewandowski describes himself as the "best customer" of that "delivery service".
"Thomas is a generally forward-looking performer and always in motion," said the Polish striker, who has scored eight goals in his last six league matches.
"With him around, we always have a new force in the box, and I don't have to carry all of the defenders on my shoulders."
Serge Gnabry has also been a big beneficiary, with nine of the former Arsenal forward's goals laid on by Mueller.
Bayern chairman Karl-Heinz Rummenigge reckons it's no coincidence that Mueller's spike in form came hot on the heels of his controversial axing from the German national team by coach Joachim Loew last month.
"He wants to prove he's still reaching the highest standards in football," said Rummenigge.
Mueller's next chance to show Loew made a mistake comes at home to Werder Bremen on Saturday, with Dortmund traveling to Freiburg on Sunday.
Xinhua